Red room ideas are perfect for those who want to create interiors with impact. Whether used wall to wall or as an accent color, since red is such a bold hue it can transform a room easily.
While it may be a strong and confident choice, red is also versatile and depending on the tone, it can be used to evoke all sorts of moods and looks. "Lighter, vibrant reds can be uplifting and bring in the essence of summer, while deeper, darker reds create a cozy and moody vibe," says Emma Deterding, Founder and Creative Director of Kelling Designs and KDLoves.
If you're considering decorating with red then you've come to the right place because we've rounded up a range of room ideas to inspire you, along with some practical tips from the experts.
Red room ideas
Red room ideas can be challenging as red is such a dominant hue, but with careful treatment they can look stunning.
"To me, all colors have a place indoors, and that includes red. It's about how you use color and where you use it, as that can really make or break an interior design scheme. If you use colors, including red, in a balanced way in your design scheme, it will work beautifully and make a real impact," says Emma Deterding of Kelling Designs (opens in new tab).
1. Create a warm welcome with a red hallway
As a transit space and the space that guests first enter, the hallway is a brilliant place to make an impression and dare with color – opting for a rich, warm red hallway is guaranteed to deliver a warm welcome.
"Red is a color of joy and passion, the boldest of shades," says Annie Sloan (opens in new tab). "It brings great warmth, energy and dynamism to a space, so it's a great choice for active areas like hallways."
2. Use red to create an eye-catching living room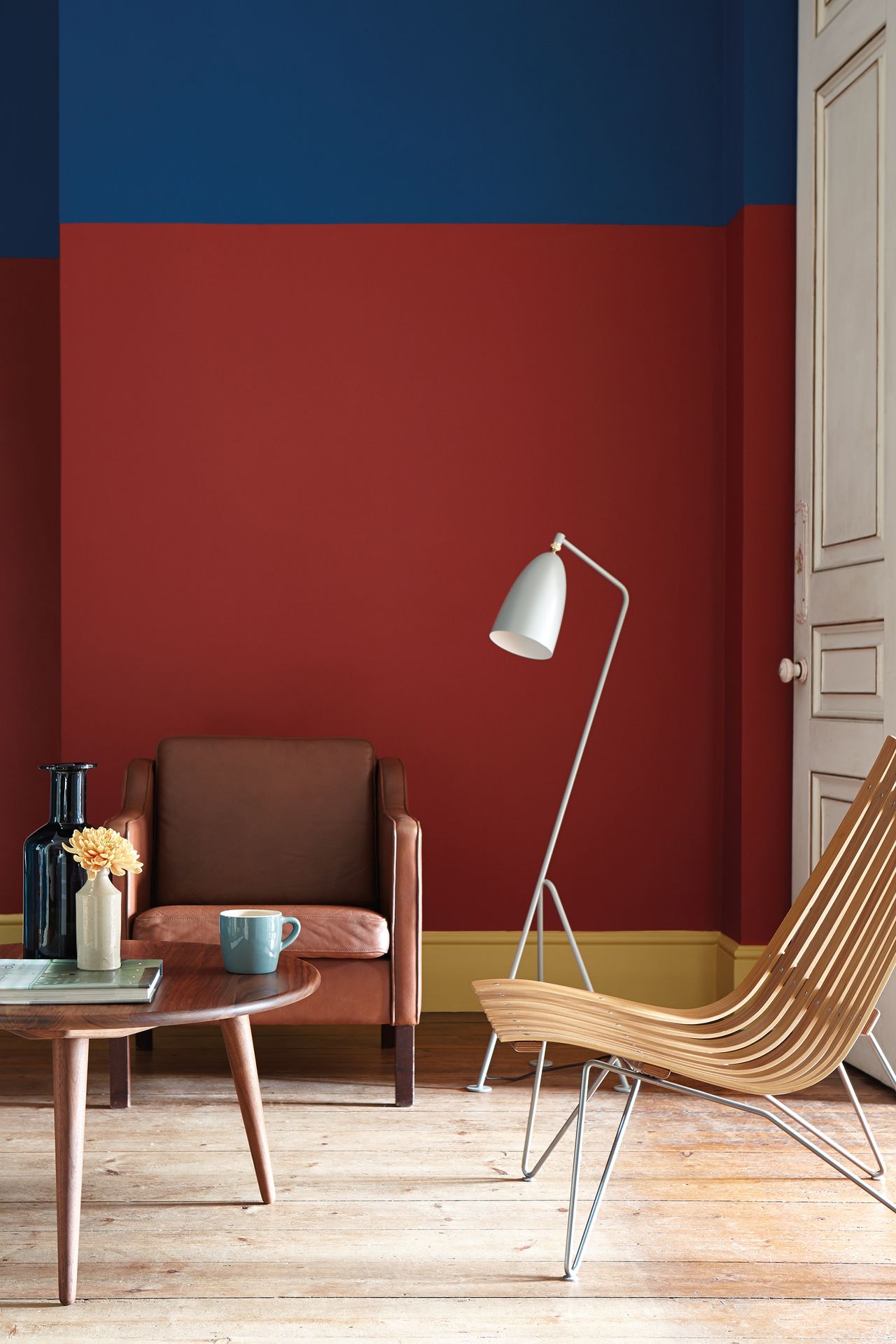 For those looking for living room color ideas, red is a brilliant option. Although it may seem like a bold choice, red is a warm and welcoming color, perfect for creating a cocooning and cozy atmosphere.
For a contemporary take on the red living room, try introducing ribbons with contrasting colors, as shown here. The Deep Space Blue and Yellow used here are not only fun, but also break up the large area of ​​red that could dominate if used on all four walls.
3. Bring drama with wall-to-wall red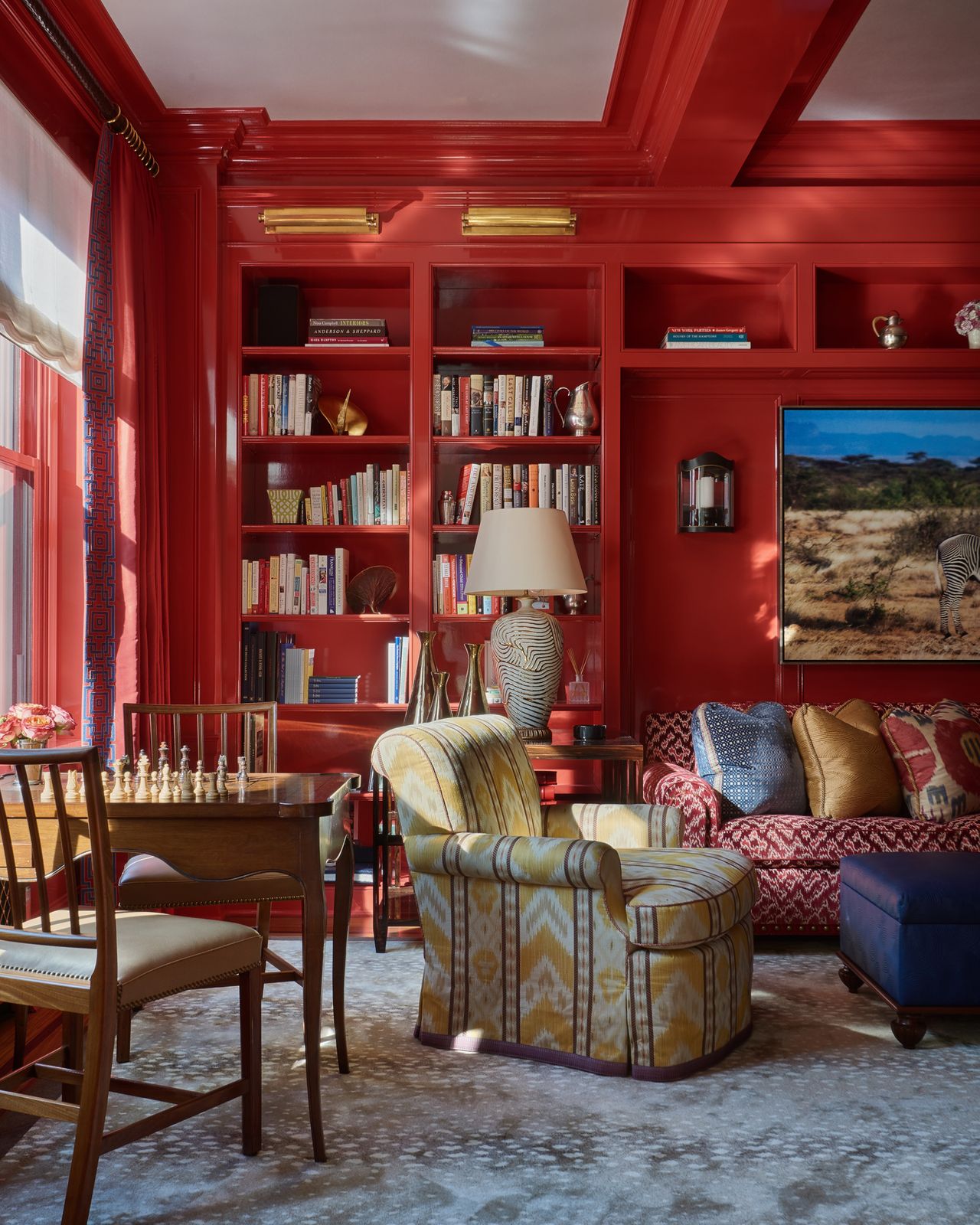 If you know color then why not take an all red living room for a dramatic yet inviting concept?
When it comes to living room color ideas, "don't be shy with color," says New York-based interior designer Phillip Thomas (opens in new tab). "Stop playing it safe and choose colors that you love and that bring you joy. In one of my all-time favorite living rooms, we used Benjamin Moore's Ladybug Red to create a super vibrant space with a strong personality."
4. Create a kitchen with impact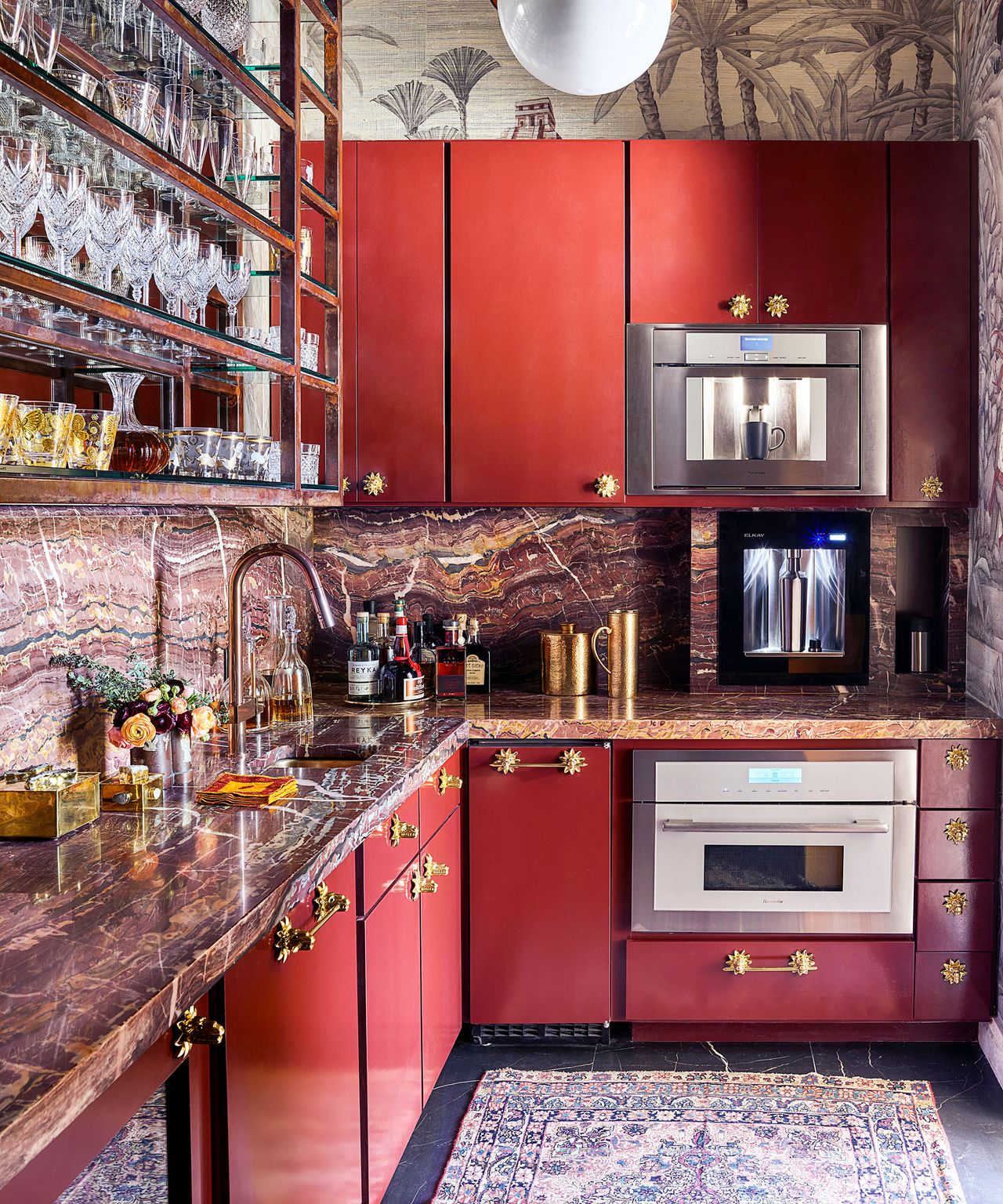 Kitchens are spaces we spend a lot of time in, so it makes sense that they should reflect our personalities in order to be as joyful and uplifting as possible.
In this red kitchen design by Michelle Nussbaumer (opens in new tab)Striking red cabinets set the tone for a dramatic and unique design, while liberal use of marble, brass fixtures and mirrored shelving add luxury and glamour.
5. Create a conversational mood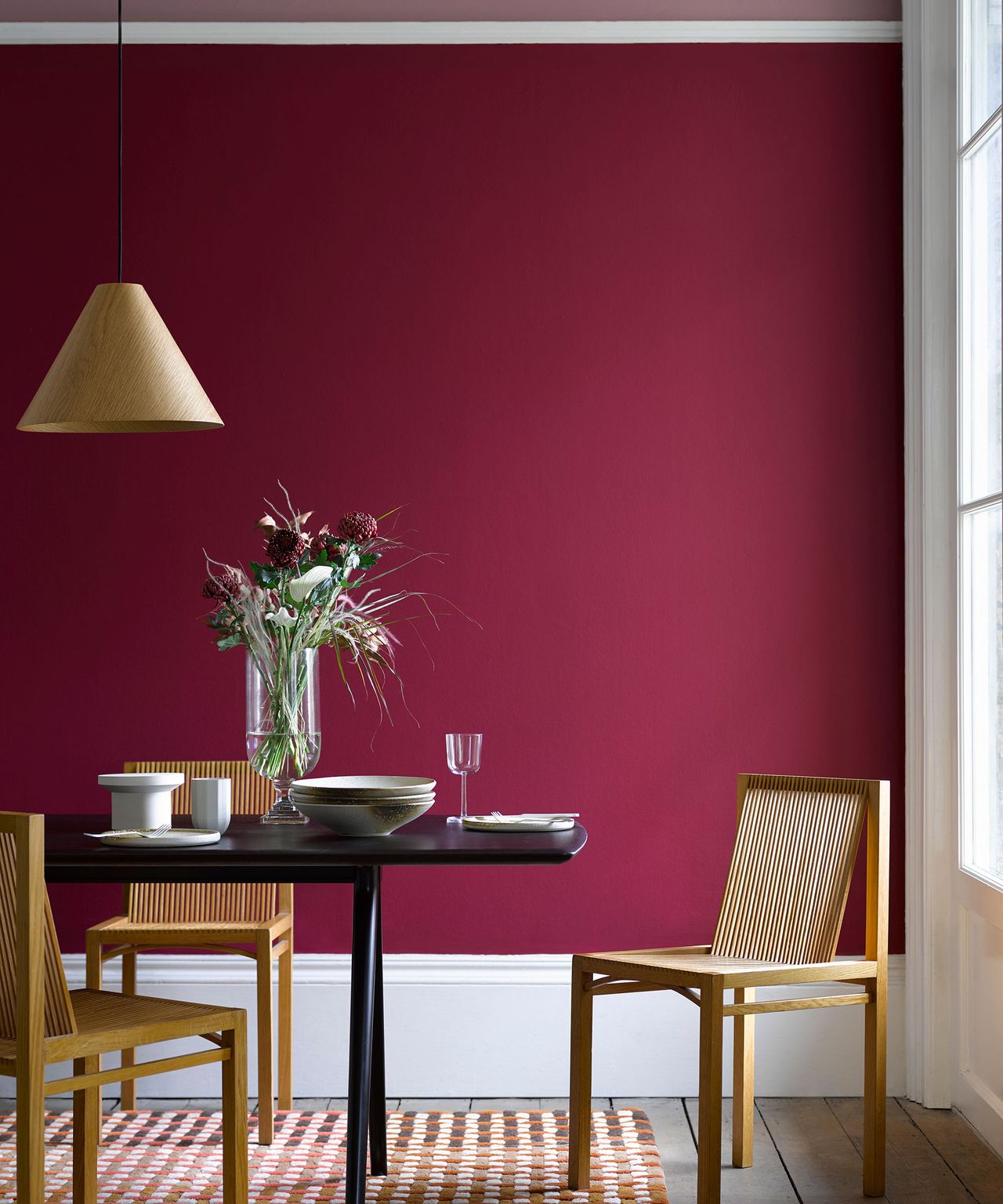 When it comes to dining room color ideas, red is a popular choice among interior designers and homeowners that has stood the test of time for decades.
"For me, red goes very well in the dining room. It is the perfect setting for beautiful celebrations with loved ones and looks fabulous at night with candlelight. It's a great color for creating energy and dynamism, so it's perfect for social settings like dining rooms," says Emma Deterding. "It will really set the mood for mealtimes and help bring you together with friends and family and create amazing memories.
To create an intimate and enveloping atmosphere in a red dining room, go for deeper tones, says Justyna Korczynska, senior designer at Crown (opens in new tab). "The darker the colour, the more light it absorbs – reds, plums and terracotta visually bring the walls inward and make a room feel warm and welcoming."
6. Paint furniture red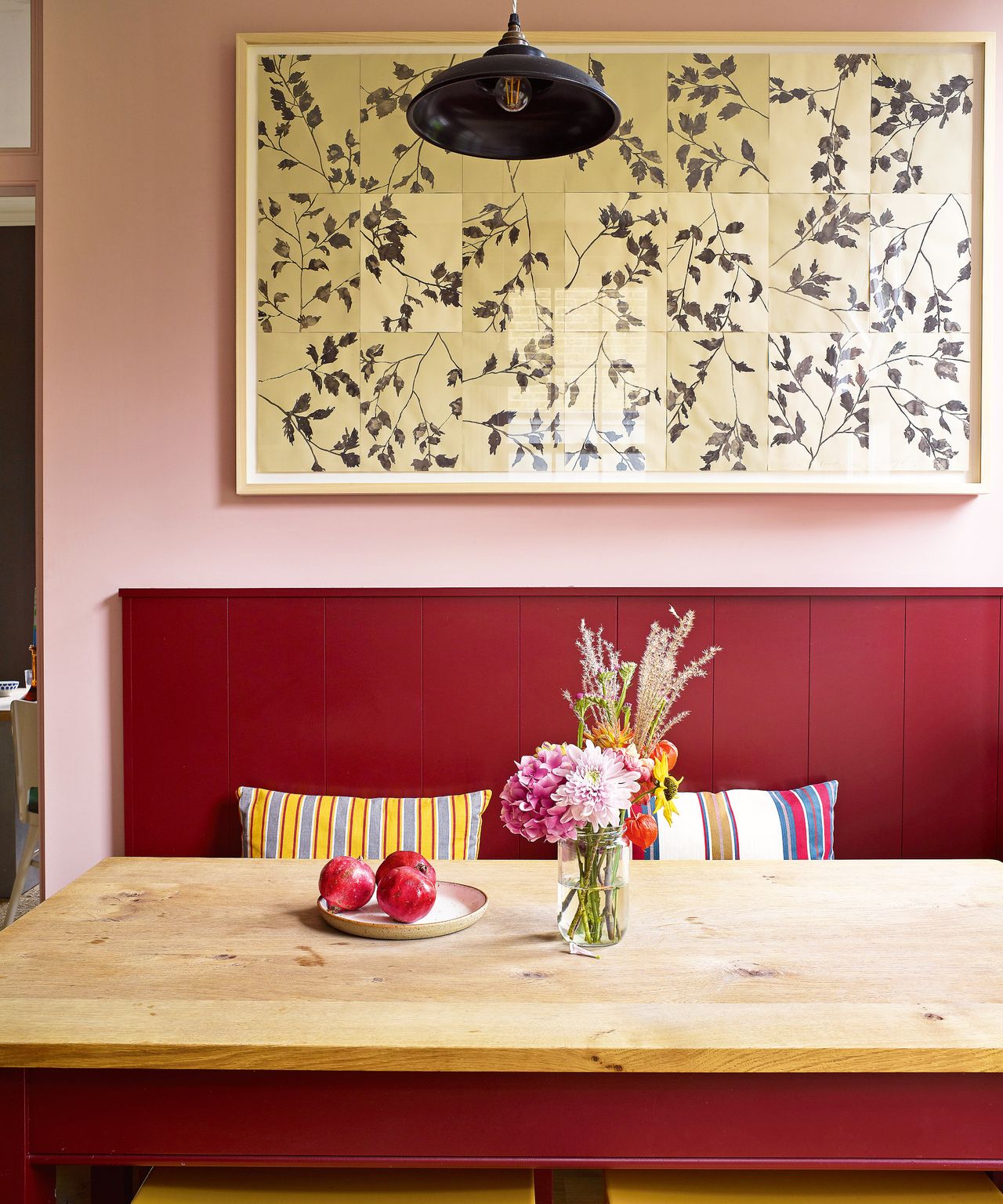 If you're cautious about using intense colors, adding a piece of red furniture or refreshing an existing piece with a touch of red color can be a good place to start, as it can easily be moved or repainted as tastes change.
A built-in bench and table frame painted red is a great way to liven up a subdued eat-in kitchen and pairs particularly well with pastel pink walls, as shown in this space.
7. Add a red sofa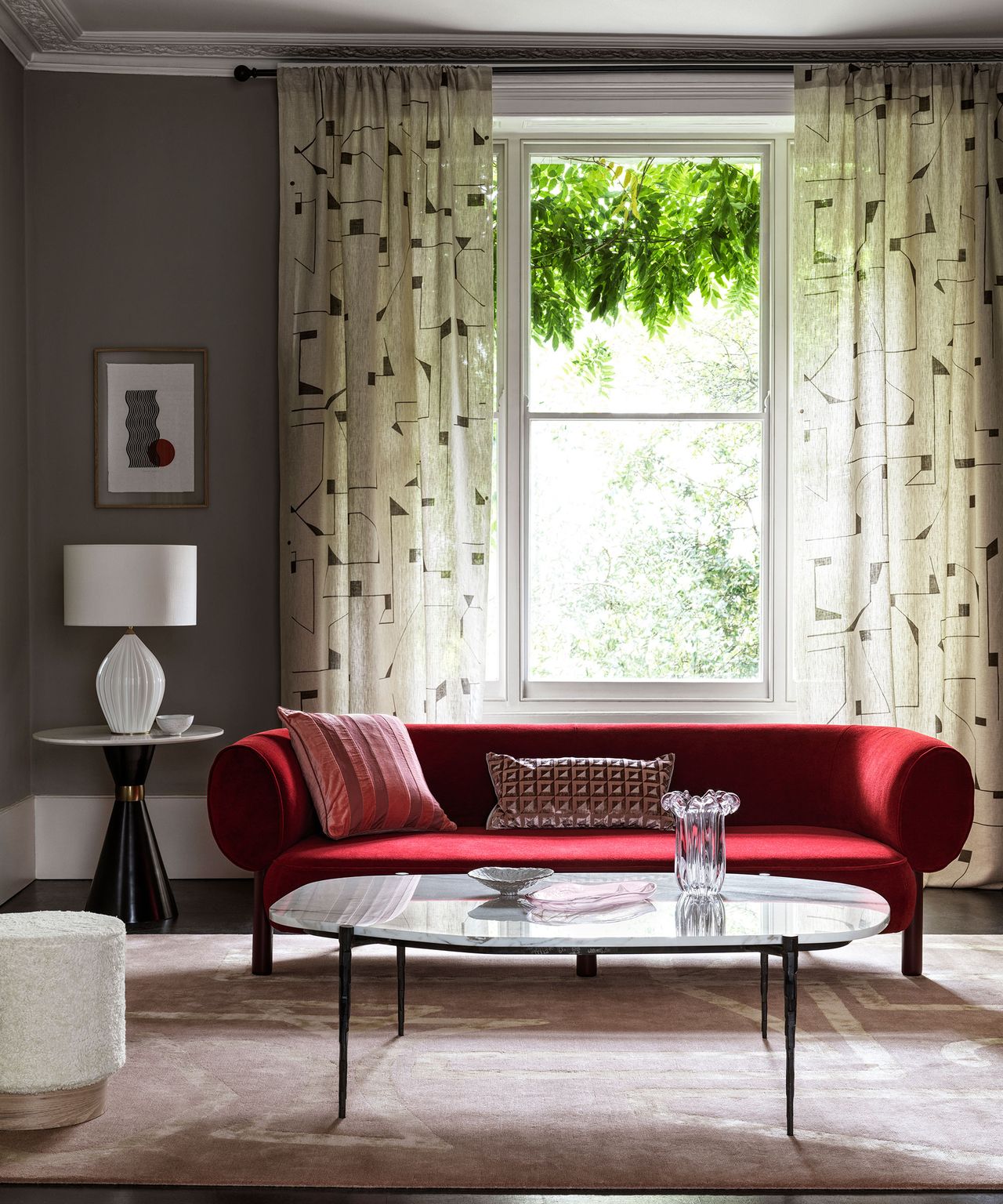 If you're looking for ways to warm up a cool, off-white living room, then you can't go wrong with a gorgeous red couch.
With its red velvet upholstery and elongated curves, this sofa brings instant softness to this monochromatic design while creating a beautiful focal point.
When red is introduced as a matte color it can feel distracting, but if you opt for a textured fabric like velvet that shimmers in the light, the red appears more varied and pleasing to the eye.
8. Use red as an accent color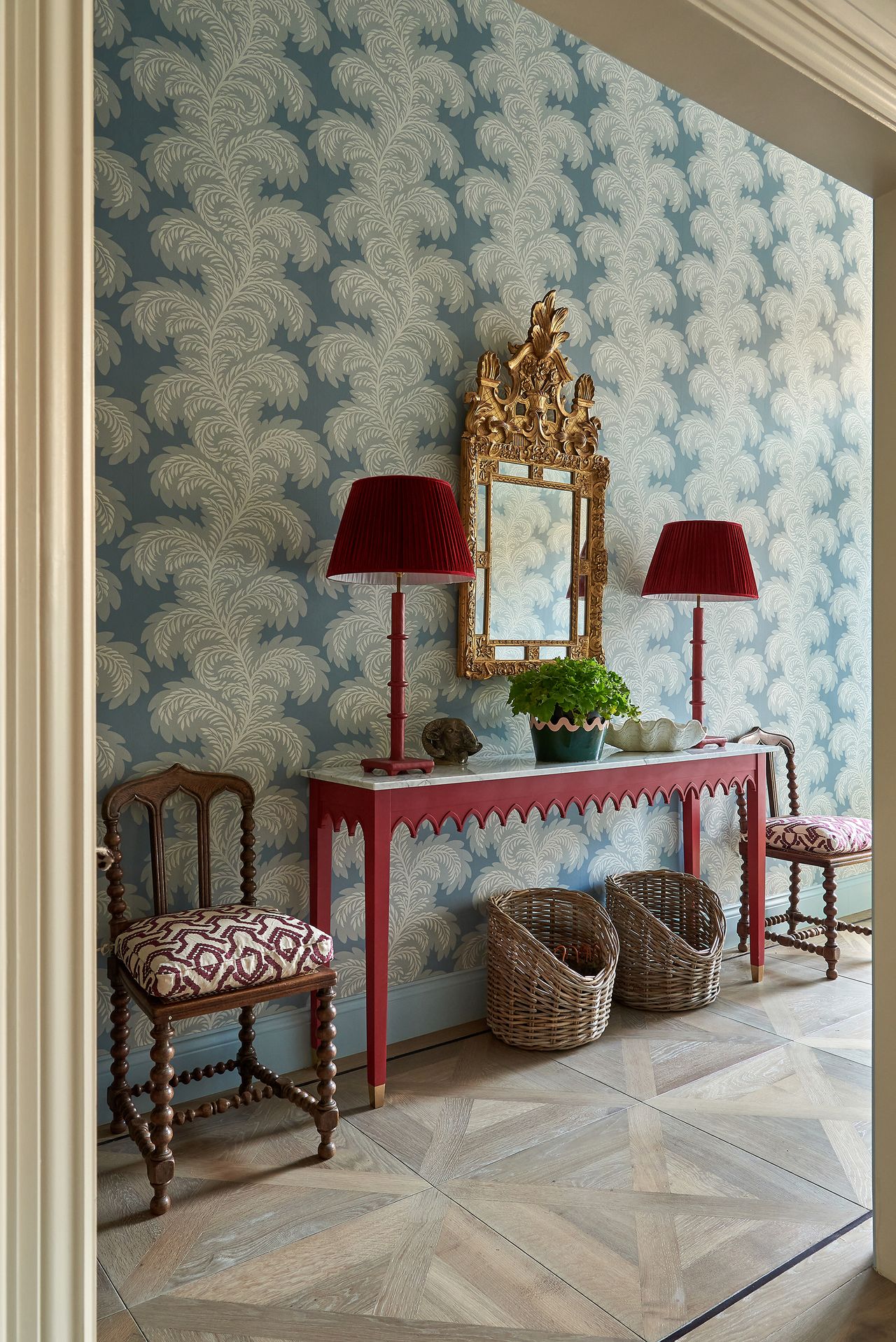 You don't have to try everything with red to make an impression, just adding a small piece of furniture or a few accessories is enough to instantly give life and personality to a small space.
In this red hallway, a scalloped console and table lamps are paired with decorative wallpaper and a gilded mirror for a quirky traditional hallway idea.
"We wanted to make a real statement as you enter this hallway, so you don't just walk by the hallway table without noticing," says Louisa Greville Williams, co-founder of Vanrenen GW Designs (opens in new tab). "The proportions of console tables are essential and we think this looks elegant with a classic feel but with a modern twist."
9. Bring a sensual feel to a bedroom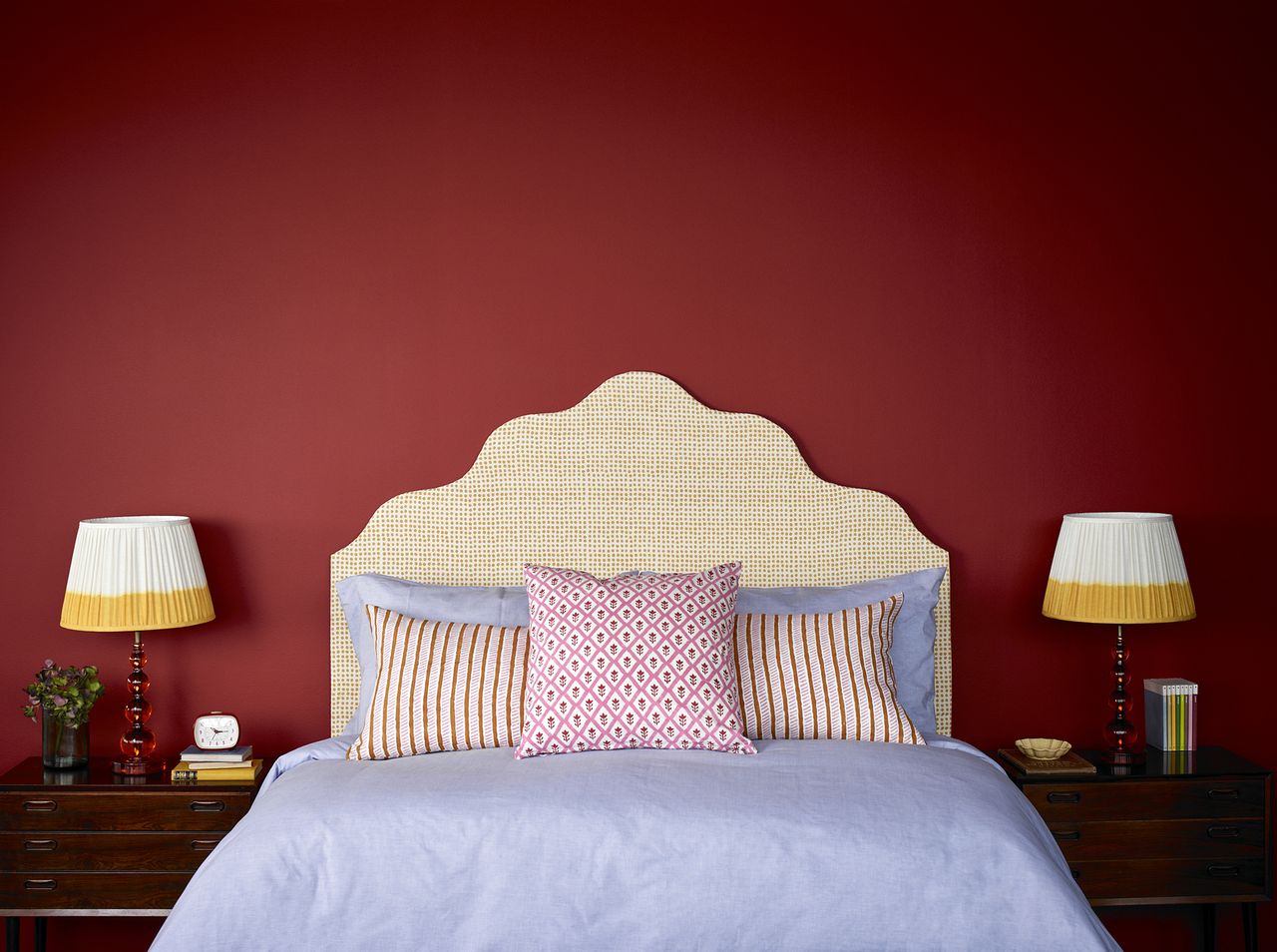 Used from wall to wall, red is a powerful bedroom color idea to create a cozy and intimate feel. Alternatively, try it on small areas to liven up more subdued bedroom schemes.
"Red walls are a bold choice, and depending on the hue and the space, red pigments can transform a space in a multitude of ways. A deep, dramatic red like Arts Club™ No. 28 is sophisticated and intense, but also warm and inviting, making it a great choice for a living room, dining room or a sensual choice for bedroom walls," says Dominic Myland, Director of Mylands Paints.
"A lighter pigment like Red Post Hill™ #68 is similarly friendly and inviting, making it ideal for bedroom details like interior shelving, or for contrasting door and window frames and entire walls."
10. Combine red with black and white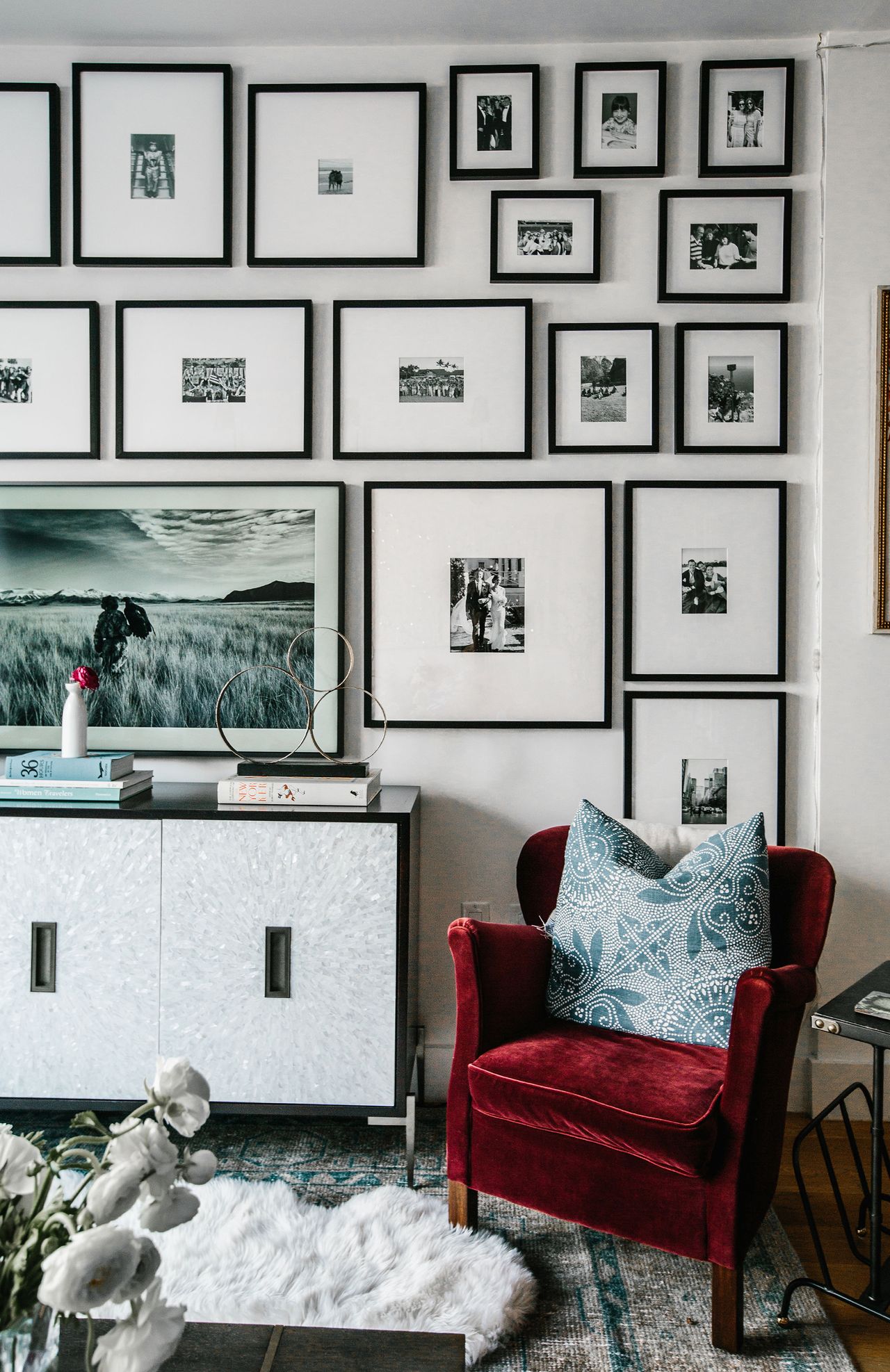 If you're thinking of incorporating red living room furniture, then a black and white decor is a good neutral base to let it shine, as evidenced by this room design by interior designer Corine Maggio of CM Natural Designs (opens in new tab).
"This space was interesting to design because it was rented. One of the few pieces that clients already had were the burgundy chairs, so to incorporate them we either had to really take on a lot of color or let them sing by neutralizing the rest of the space, which is what we ended up going for. "
11. Use red to add an element of surprise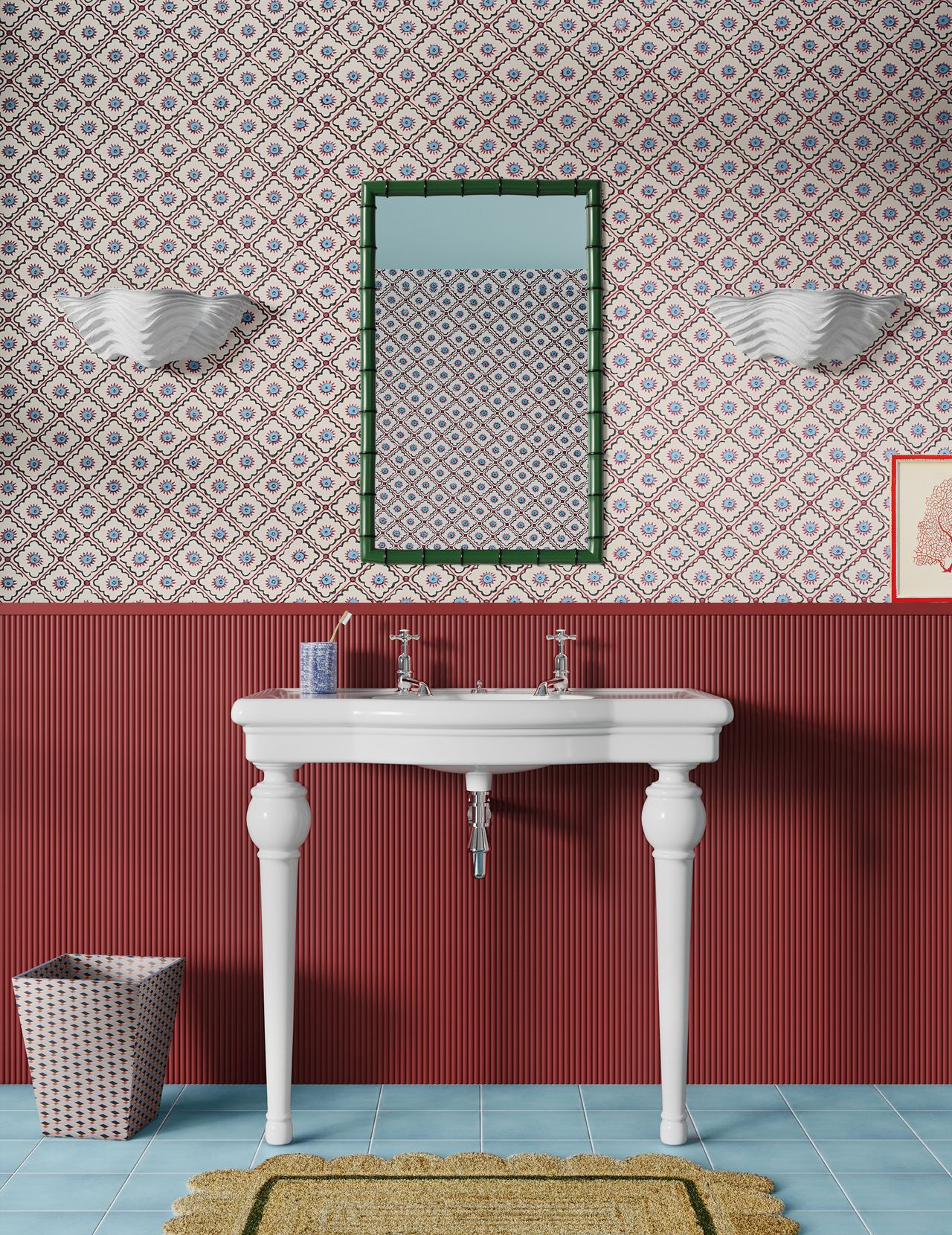 As small spaces that aren't used for long periods of time, you can afford bold decorating in cloakrooms and guest bathrooms, and this combination of red paneling and wallpaper is a guaranteed eye-catcher.
The Little Greene Red Bronze finish on the fascia not only adds warmth and colour, but also helps to accentuate the beautiful shape of the sink so that it really takes center stage.
What color goes with red walls?
Red walls can be combined with many other colors – the color wheel is a useful tool for finding out which shades go well with red.
Sitting opposite red on the color wheel, blue is a natural partner to red and perfect for balancing red rooms, while neutral colors like white, gray and black are always a safe bet for bold colours.
"The key is to balance light colors with more conventional tones. For example, if you want to add a touch of red to your home, I would pair it with a deep navy, white, or some nice neutral tones to soften the look," says Sue Jones, co-founder and creative director of Oka.
However, red can also harmonize well with neighboring hues on the color wheel, such as orange.
"Any color that's primarily red or orange will make a room feel much warmer. Using two or three of these colors together creates this warm palette with tonal interest. Many think that red and orange collide, but in fact they work really well together," says Justyna Korczynska, senior designer at Crown.
If you want to create an impactful scheme, red can look stunning in combination with high-contrast black and white and other primary colors. However, pastel shades should not be ruled out, since pink and lilac go especially well with red.
How can I make my red room look good?
There are many ways to make a red room look good, from a well-designed lighting scheme to the finishing touches. "As always, use furniture and accessories in complementary and contrasting tones to create that all-important balance. Mirrors are a great way to add sparkle and fun, but they also help reflect light in a room and create the illusion of space," says Emma Detering, Founder and Creative Director of Kelling Designs and KDLoves.
"Lighting should always have dimmer controls so you can change the atmosphere and make sure you're lighting each piece of art well. Pictures in gilded frames look especially great on red walls, but you just have to make sure you're lighting them properly.