Pune, India, June 6, 2022 (GLOBE NEWSWIRE) —
The global home improvement market size is expected to increase exponentially during the forecast period as homeowners focus on adding style, comfort and value to their living spaces. The global COVID-19 emergency had an undeniable impact on the market as customers looked to upgrade their homes to equip themselves with the demands of working from home and learning from home. The following trends are expected to remain dominant in the market into 2027: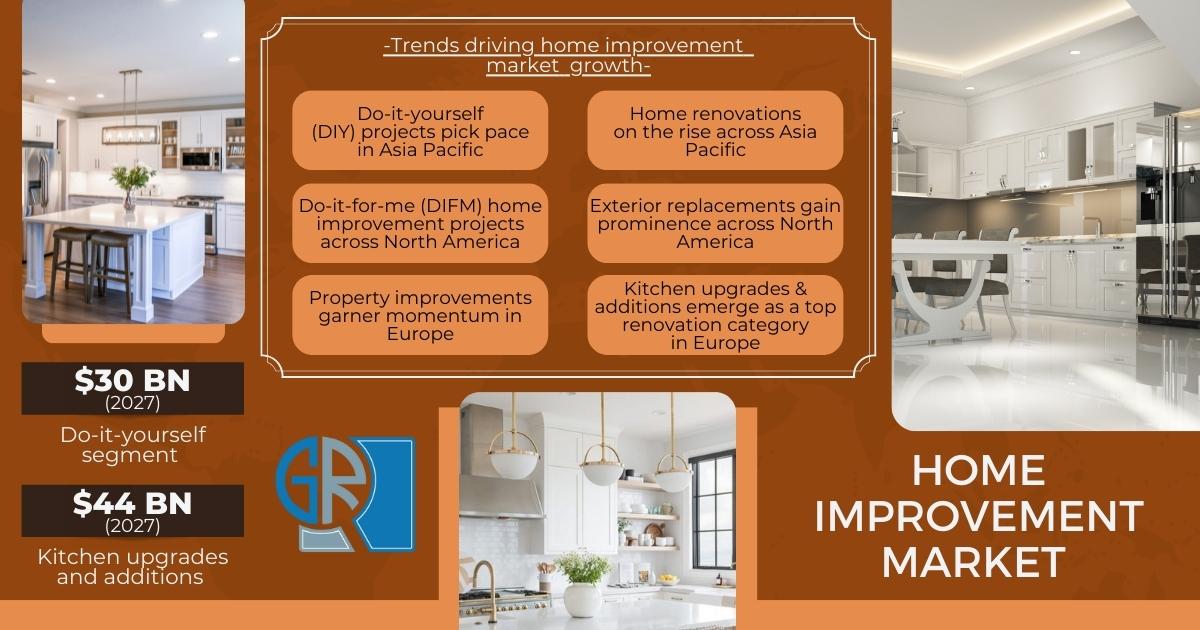 Do-it-yourself (DIY) projects are gaining momentum in Asia Pacific
Due to increasing home remodeling such as home offices or simply upgrading the living and dining areas, APAC Home Improvement Store from the do-it-yourself segment is expected to account for around 30 billion US dollars by 2027. Functionality, aesthetics, damage, ROI, and generational differences are just some of the factors fueling the DIY boom. According to a recent study by homeisd.com, 73% of Millennials work on DIY home repair projects, while the remaining 27% choose DIFM. The data supports the idea that millennials are avidly consuming content related to home improvement projects via YouTube and other internet media.
Access sample report pages, "Home Improvement Market Forecasts in Asia Pacific 2027" in detail together with table of contents (TOC) @
https://www.graphicalresearch.com/request/2134/sample
Home renovations are on the rise in Asia Pacific
The APAC rehabilitation industry is experiencing healthy growth thanks to growing demand to renovate or modernize old buildings. The expanding construction sector and increased spending and investment in new construction projects are also benefiting market revenues. A wide variety of configurable designs for commercial buildings, as well as a high demand from property owners for attractive interiors, are other important factors contributing to the popularity of renovations.
Do-it-for-me (DIFM) home improvement projects across North America
The global pandemic has given a significant boost to renovation ideas by requiring numerous home modifications. Many homeowners have faced the need for additional space to work from home and participate in distance learning. Rising demand for home improvement products was reflected in The Home Depot and Lowe's 2020 earnings results. Home Depot reported a roughly 20% increase in net sales for fiscal 2020. Meanwhile, Lowe's full-year net sales rose 24.2%. To gain and maintain market share, Lowe's has undertaken several strategic initiatives over the past two years.
The company recently launched Lowe's for Pros JobSIGHT, an advanced video chat application. It enables professionals to communicate digitally with clients and companies. The company then launched a personalized shopping experience specifically for that customer base. According to market estimates, the North American market share of the DIFM segment will reach a valuation of US$315 billion by 2027.
Access sample report pages, "Home improvement market forecasts in North America 2027" in detail together with table of contents (ToC) @
https://www.graphicalresearch.com/request/1961/sample
Exterior replacements are gaining traction across North America
One of the most notable lifestyle changes post-pandemic is a desire to spend more time outdoors. As evidence of this trend, the 2021 American Institute of Architects survey found that demand for outdoor spaces has increased from 61% to 71%. Similarly, according to Forbes, the average homeowner spent $8,408 on exterior renovations such as deck, porch, patio, or patio upgrades.
Increasing consumer awareness of new and better design trends such as polymer and vinyl siding and stone veneer siding to improve the appearance and appearance of exterior facades is expected to drive service adoption. With more outdoor leisure activities Market share of home improvement in North America from the exterior replacement segment is expected to be worth US$90 billion by 2027.
Property improvements are gaining momentum in Europe
The growing trend to upgrade homes and enhance their aesthetics will boost demand for home renovation products in Europe. People are increasingly attaching importance to sustainable development and are actively reducing their CO2 emissions. The concept of the smart home has taken off around the world, and people are increasingly investing in upgrades that make their daily work easier.
Another factor driving property upgrades over the next few years is Europe's rapidly aging homes. The real estate sector share of the European home improvement industry is expected to grow at a CAGR of 5.5% through 2027.
Access sample report pages, "Market forecasts for home improvement in Europe 2027" in detail together with table of contents (TOC) @
https://www.graphicalresearch.com/request/1992/sample
Kitchen upgrades and additions are emerging as a top renovation category in Europe
The use of high-end and smart technology in kitchens has sparked a lasting interest from homeowners. Modular kitchens are becoming increasingly popular due to their aesthetics. The increased need for convenient add-ons such as one-touch coolers, self-regulating dispensers and motion-sensing faucets has led to the introduction of smart kitchens in home renovations and remodeling. The European home improvement market share of kitchen upgrades and additions will be US$44 billion by 2027.
About Graphic Research:
Graphical Research offers a large collection of market research and industry analysis reports covering Healthcare, Automotive, Oil & Gas, Pharmaceutical, IT, Agriculture, Chemical and many other sectors across different regions such as India. B. Cover North America, Europe, Asia Pacific, Latin America and others. The comprehensive reports we provide are focused on key industry trends and insights into specific regional markets. The data we deliver helps our clients make better strategic decisions. Our goal is to offer competitive and high quality customized market research reports.